Tax Savings with Equity Linked Saving Scheme (ELSS) Mutual Funds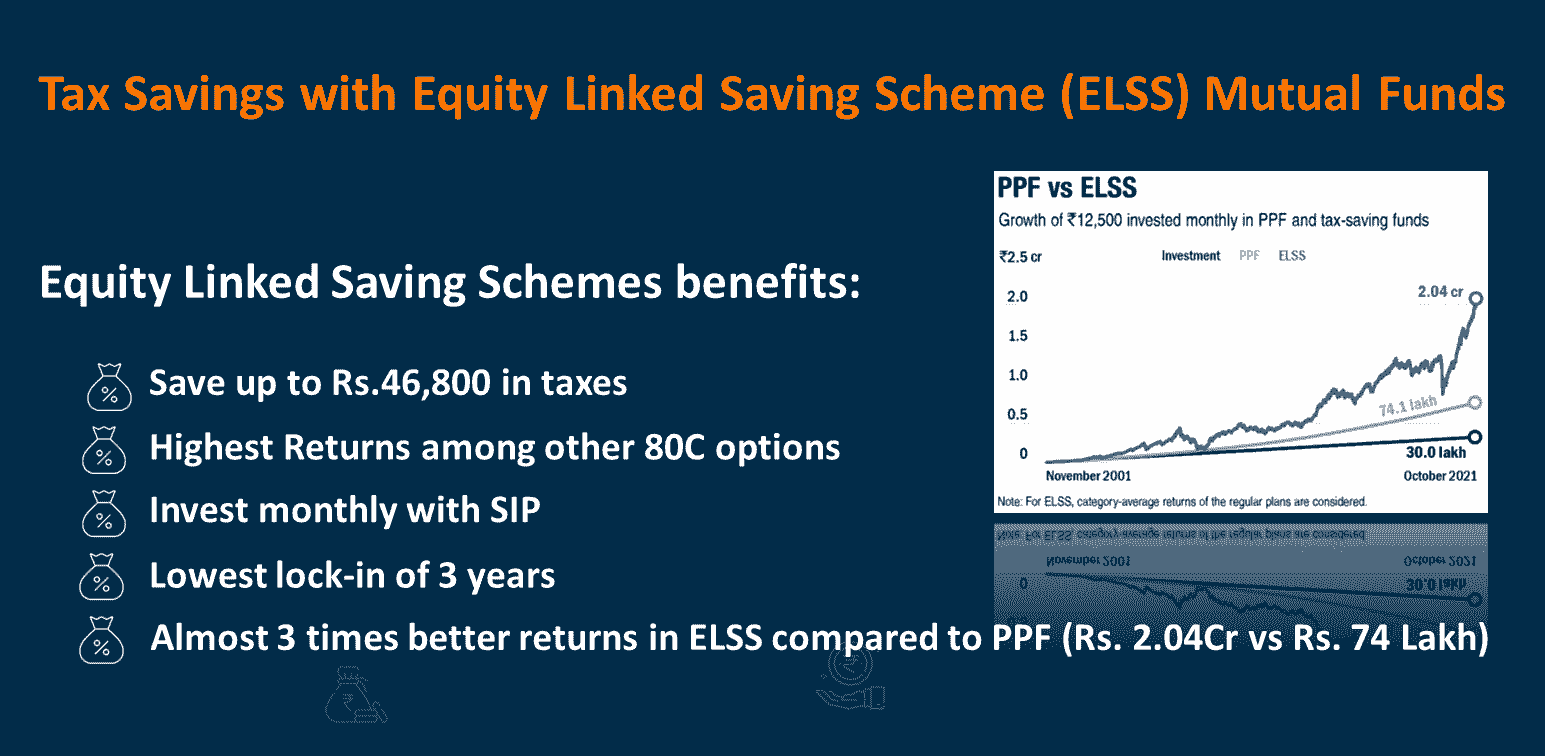 Share:
WhatsApp
Facebook
LinkedIn
Twitter
As the Tax Savings deadline (31st March) is approaching, we are left with few final days to fill up gaps in our Tax Saving Investments. Presenting here, one of the best tax saving investment options (ELSS) that will not only help save taxes (under Section 80C deductions) but also provide handsome returns in longer term (3+ Years).
Equity Linked Saving Schemes highlights:
Save up to Rs.46,800 in taxes
Highest Returns among other 80C options
Lowest lock-in of 3 years
Invest monthly with SIP
Almost 3 times better returns in ELSS compared to PPF (Rs. 2.04Cr vs Rs. 74 Lakh)
Equity Linked Saving Scheme or ELSS is a mutual fund scheme that primarily invests in the stock market or equity. Investments of up to Rs. 1.5 Lac made in ELSS Mutual Funds are eligible for tax deduction (yearly tax savings of up to Rs. 46,800) under section 80C of the Income Tax Act. ELSS certainly is an option for better returns, however, capital safety is more in favour of options like PPF and Fixed Deposits (with much lower overall returns). Also, ELSS funds have the shortest lock-in period (3 Years) among all Section 80C options (PPF has lock-in of 15 years) and provides the flexibility to continue with the investment even after the completion of the lock-in period of three years.
Historically, ELSS funds have grown investor's money for Longer Term Wealth Creation, providing the much-needed Tax-efficiency alongside. A recent study (done by Value Research) indicated that Rs.12,500 invested monthly over last 20 years (Total Investment of Rs. 30 lacs) in PPF would have grown to Rs. 74.1 Lacs while the same investment in ELSS funds would have become Rs. 2.04 Crores, clearly indicating the advantage of investing in ELSS funds with a longer-term perspective.
Recent fall in equity markets provide an ideal investment opportunity for longer term investing in equity linked instruments. Historically, steep market falls have been followed by exceptional returns and this helped Sensex on its upward journey (going from ~4000 value in 2001 to ~56,000 now, a 14+ times growth in last 21 years even after witnessing large stock market falls during this journey). Stock Market linked investments made in current market (with an investment horizon on 1-3 years) are expected to provide supernormal returns.
With that said, we have identified few ELSS options that are expected to perform better than their peers. We would love to hear from you, share these options and discuss more about any queries that you may have for planning the taxes efficiently alongside making best-in-class returns.
Happy Investing…...